Wildlife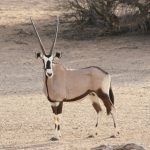 Due to the rich diversity of plainsgame, fauna and flora on FM Safaris, we are able to offer photographic and hunting safaris.
Species found on the ranch include: Steenbuck, Grey Duiker, Mountain Reedbuck, Springbuck – Kalahari, Springbuck – Copper, Springbuck – White, Springbuck – Black, Blesbuck – Common, Blesbuck – Golden, Blesbuck – White, Impala – Southern, Nyala, Waterbuck, Red Hartebeest, Kudu – Greater, Black Wildebeest, Blue Wildebeest, Gemsbuck (Oryx), Sable Antelope, Roan Antelope, Burchell's Zebra, Cape Eland, Giraffe and Ostrich
---
Birdlife
An abundance of birdlife is also seen on the ranch including the spectacular Khori Bustard as well as the Ludwig's Bustard, Secretary Bird, an abundance of Namaqua Sand Grouse, spectacular Sociable Weaver nests, Martial and Black Eagle.
---
Secret 12
On a night drive one may be fortunate enough to see one of our 'Secret 12" nocturnal animals.
These include: Aardvark, Aardwolf, African Wildcat, Black-Footed Cat, Bat-Eared Fox, Cape Fox, Caracal (African Lynx), Pangolin, Porcupine, Small Spotted Genet, Springhare and Striped Polecat.